Full Moon Sound Healing Experience
Gongs, Bowls & Crystals
Saturday July 28, 2018 | 6:30-8:30 pm
Experience the transformational tones and healing power of Himalayan bowls, Gem Stone Crystal Bowls, planetary gongs harmonically tuned to resonate with the cosmic cycles, and didgeridoos all vibrating together in a cosmic harmony.
Join Gary Fishman as he leads you on a shamanic sound journey blending together the healing power of Crystal Gem Stone Singing bowls, Himalayan bowls, planetary gongs, and didgeridoos. These vibrations have the energy to cleanse outdated thought forms and will heighten your vibrational level and open the door for new spiritual growth.
Feel Free to bring mats, blankets, pillows and anything to lie comfortably in.
Please respect this is a fragrance-free studio and a fragrance-free experience and refrain from wearing perfumes, colognes, scented lotions, etc.  
Doors open by 6:30 and sound healing begins at 7 pm.
$30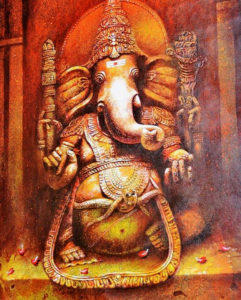 Ganesh Rocks! With Susan Bhat
Thursday August 2, 2018 |6:30-8:00pm
Remove obstacles, clear paths, and connect to your inner Elephant Creativity in this workshop that incorporates Pranayama, Tai Chi-Inspired Flow, Yoga techniques, and chanting. We start with an invigorating chant to the qualities of Ganesh, represented as the remover of obstacles, and invoke those qualities within ourselves. We work with the breath to open the flow. Then we move our bodies and work with the stuff that has us stuck. We end with a simple ceremony to support each other in removing obstacles, and a rousing "Jai Ganesha!"
Susan is a devoted practitioner of yoga, meditation, and chanting and has been teaching those practices for a decade. She has a light and gentle spirit, and enjoys encouraging the same in her students.
$20
Ecstatic Awakening: New Moon Sisterhood Ceremony
With Alana Warlop
Saturday August 11, 2018 | 2:00-4:00pm
Come join in the power of the collective sisterhood for an epic New Moon/Eclipse Season Ritual at iBODY Inspired Movement Studio in Denver. The New Moon during an Eclipse takes our manifestations and intentions to a cosmic expansion.
In this ceremony, you will be guided through a deep self-inquiry through breathwork, movement, ecstatic shaking and ritual to induce a state of awakening. We will learn to embrace all that is happening within and transform what is no longer needed for the journey ahead. This is time to deepen the relationship with your spirit while in a community of like-minded, wildly beautiful women!
Investment: $35