I.A.M. Inspired Awesome Me!
Nia Teacher's Support Experience
With Dana Hood & Loretta Milo
April 14, 2018 | 1:30 – 3:30pm
This 2 hour workshop for Nia Teachers of ALL levels who are seeking support and mentoring on their Nia and Nia teaching path. If you've never taught, this can help launch your teaching. If you've taught for 10 years and are seeking mastery at a new level, we can help. All levels and skill set's welcome!
Show up ready to play, learn and shine! Our desire is to create a Nia community environment for teachers at all points on the path in reaching their highest potential. It's a safe space for you to learn, grow and be yourself! This playshop will happen the second Saturday of every month.
 
Gongs, Bowls & Crystals Sound Healing Experience
Saturday April 21, 2018 | 6:30-8:30 pm
Experience the transformational tones and healing power of Himalayan bowls, Gem Stone Crystal Bowls, planetary gongs harmonically tuned to resonate with the cosmic cycles, and didgeridoos all vibrating together in a cosmic harmony.
Join Gary Fishman as he leads you on a shamanic sound journey blending together the healing power of Crystal Gem Stone Singing bowls, Himalayan bowls, planetary gongs, and didgeridoos. These vibrations have the energy to cleanse outdated thought forms and will heighten your vibrational level and open the door for new spiritual growth.
Feel Free to bring mats, blankets, pillows and anything to lie comfortably in.
Please respect this is a fragrance-free studio and a fragrance-free experience and refrain from wearing perfumes, colognes, scented lotions, etc.  
Doors open by 6:30 and sound healing begins at 7 pm.
$30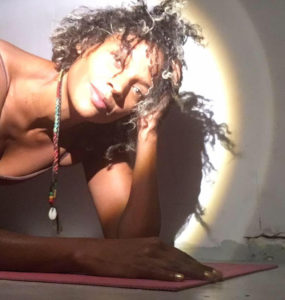 Unwind + Grind:
The Official Divine Booty Shaking Experience With April Axé Charmaine
May 4, 2018 |6:30-9:00pm
Unwind + Grind is a movement experience. Class begins with a warm up in the round, participants are encouraged to make any move their own. Group Across-the-floor section follows with original Sol Vida technique that will give you a new vocabulary of dance moves inspired from West African, Egyptian, Afro-Brazilian, Hip Hop, and Latin dance that are infused with a personal, embodied, sultry flair. Mixing up the power of get-in-your-bones dance music and intentional movement, class will end with a free movement section where participants can completely let go and experience the power of Unwind + Grind, allowing your inner goddess to shake it and shine, surrendering all the way to the end where we spend time restoring and integrating all the beautiful work.
To unwind is to unravel, to relax after a period of tension. To grind is to connect with the divine feminine, the womb, our core and its infinite connection to the larger universe.
$25.00
Class is followed by an optional wine-luck (bring chocolate, wine, snacks to share).
April Axé Charmaine, (Dance/Spirit Name:Axé),is the Founder and CEO of SOL VIDA, a Global Dance & Healing Company, an international artist performing, educating, and training in Ghana, France, Spain, Colombia and Brazil. As a fusion artist, she is gifted at cultivating people's authentic personal expression through combining multiple styles of movement and embodiment practices including Reiki, Ballet, Yoga, Modern, West African, Afro-Brazilian, Ecstatic Movement, Jazz, Hip Hop, Theatre, Writing, Contemporary, Choreography and Performance Art. She is a native of Denver, Colorado known for founding Sol Vida Dance Studio, The Denver Dance Project, East Dance Company and impacting thousands of students young and old through her love and light.
"I don't know what I'd do without Unwind and Grind."
"Unwind and Grind is something special – the only dance class I have experienced that is not about how you appear, but rather how you feel in your body."